Namaste………huh?
Ok, I can't touch my toes yet, my back will still not straighten, my hamstrings will not loosen up and I don't even really know how to use the word Yogi.
But I'm still here!
Still trying to "chill".
Still plugging away.
Still blogging about it.


Lucky you.
Want to know what I want to talk about?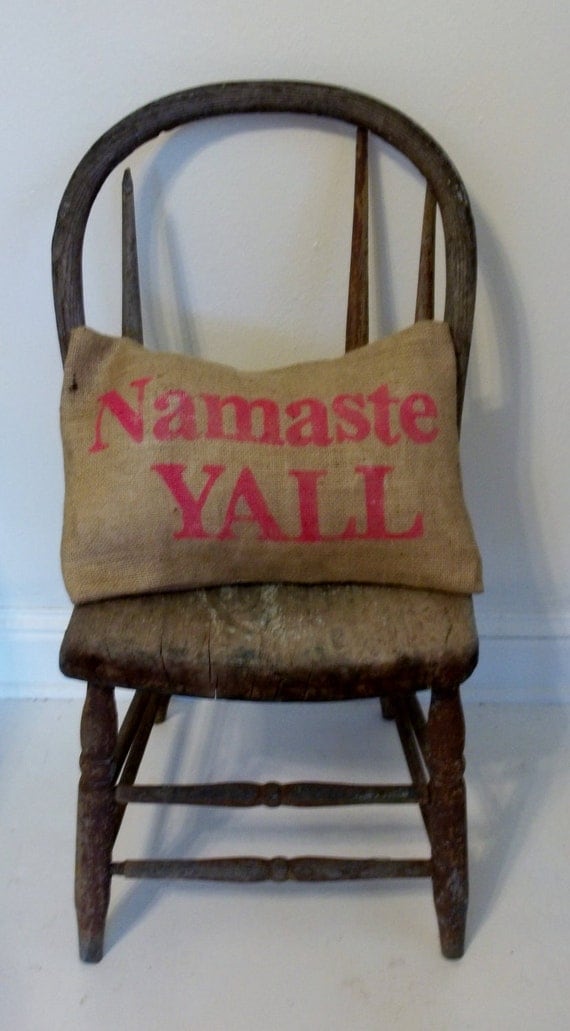 This pillow is available at this precious Etsy store for $33.00, you can click on this link to purchase your own.
They do not know me….. I would just like to give credit where credit is due.
I don't want to talk about the store.
Although, I would suggest you check it out, I want to talk about the word.
Namaste.
Rebeccapedia explanation of how to pronounce it: NOM-Uh-Stay.
When I was a wee yogi lassie (two months ago) and they would end class with this word, I had no clue what they were saying.
And don't tell anyone…… but when the instructor would quietly say it and bow her head….I would respond…….a mumbly "Amen" in return.
I'm a born and bred Baptist people. I thought the instructor was mumbling some kind of "And All His people said…..".
So I….. well……I, ummmmmm…….mumbled an Amen back.
Dork alert!
You're welcome.
A beginner class with Trish and a sweet email from Linda (who did not know what I had been mumbling) cleared that (amen) up.
And I found out they were saying the word "Namaste."
Which made me wonder if I had gotten myself into a kool-aid drinking cult.
Now, why would I think that?

But before I over reacted and bolted out the door throwing Holy water over my shoulder and shouting the Lord's Prayer while rubbing my lucky rabbit's foot Bible book mark, I decided to really find out what Namaste meant.
So I did my own extensive research for all of us and also enlisted the help of two instructors from Yoga in Common and Yoga in the Forest to find out the meaning of Namaste.  I will give you the questions that I have or have heard from others and then Sue and Leah will provide their educated answer. Oh…and then I chime in…… You're welcome.



Questions I have about Namaste :
What does Namaste mean?
Leah: It literally translates to "I bow to you," not in a freaky way, just in a thankful and appreciative way.  It means that I recognize the place of light and love and ,most importantly, oneness. It's surrendering worldly "stuff," especially ego, and honoring and connecting with the true Self in each of us.
Sue:  Namaste means "I honor the place in you in which the entire universe dwells. I honor the place in you which is of love , of truth, of light, and of peace. When you are in that place in you and I am in that place in me… we are one."   
 Sometimes a new student will hear Namaste at the end of class for the first time and they think it's "Have a nice day!"   
 Me:  Did anyone else think they were supposed to say amen? I'm just asking.
Is Namaste only said at the end of a class or is it a greeting as well?
Leah: It can be a greeting as well. It is a friendly greeting like a handshake or hug or friendly hello or goodbye.
Sue: Namaste can be expressed anytime … the concept is so all encompassing… if only we all acted as if we were one, the world would be more at peace.
 
Me: Anytime? Like if someone sneezes? Or if you needed to get past them to get to the restroom? I mean, technically, it isn't ANY time……not that I'm being difficult.


Why do we hold our hands to our heart?
Sue: I believe that bringing the palms together creates a circular conduit for the energy within us. Having the hands by our heart brings us closer to our center.
Leah: To signify that the class is over and thank everyone for coming and for being who they are and recognizing the light, love, and beauty in each being.
Me: Oh. Huh?


Why do some people bow so long when the class ends and others briefly? Does it matter?


Leah: It totally doesn't matter how long, just how ever you are feeling that day. You are just honoring the place where we are all one and recognizing the love in every being. Some days it feels surreal and a long bow feels right and some days you might be in a funk. Neither is good or bad and yoga helps us learn to move from our hearts rather than our heads. It literally give us an opportunity to get "out of our minds!" I love that!
Sue: The time that you bow to your heart is a personal thing… after savasana and especially when you have set an intention for your practice or feel that you have grown in your practice that day, it is a time to reflect.
Me: (note to self- Quit peeking out of one eye to try to be the last bower there; they're on to me.)


Do you wait until the last person comes up from their bow before you can thank the instructor, gather your items or talk? Is it disrespectful to move around before the last person is up from their bow?
Sue: Being aware of and respectful to the others in the room does not mean that you must wait for the last person to come up from the bow… moving quietly and speaking softly is best … saving any real conversation for the front of the studio.
Leah:It's good to be respectful; however, do whatever feels right. If someone is still bowing and you want to thank the instructor, that is totally ok.  Yoga helps us to tune-out external distractions and stay within. Sometimes people might be repeating a mantra or revisiting an intention in that moment and will be in a bow a little longer. 
Me: (note to self– NOT good to start talking on cell phone before leaving class!)


What is the most common question you get regarding Namaste?
Leah: Sometimes people think it is some weird religion or strange act, but it is just a friendly recognition, like a hug or handshake or a genuine thank you. There are many interpretations of namaste.
Sue:  Most people ask what it means.  An easy translation is "the light and love in me sees and honors the light and love in you." This is easy for people to grasp.  The concept is that we are all made up of molecules of energy as is the rest of the universe… when we are born we get a piece of that universal energy … our soul???… when we die that energy does not die, it is just disbursed back into the universe…Hope this is not too WOO WOO out there !!
Me: Umm….pshhht! Woo Woo??? Out there??? Ha! What-ever! I mean…. you all didn't freak me out at all!!!! I'm like so chill and stuff. Universal energy talk??? I talk like that ALL the time with my conservative husband, republican parents and kids! We are so into that kind of  thing. I even burned incense in high school one time…!! Yeah….I'm so like about disbursing my energy back into the universe and stuff!
~gulp~

(Another note to self. Leah's onto my "lucky rabbits foot Bible book mark" and fear factor! Note again to self…..take my "lucky rabbit's foot Bible Book mark" to Sue's class and do NOT let it disburse into any little particles of energy back into the universe…)

So there you have it.

Namaste.
All joking aside…..
Did this answer any questions you had?
Did this answer any misconceptions that you have had?
Let me share something. Stir your thinking. Create a healthy discussion. I'm a newbie Yoga girl…I can do that and pretend like I don't know what I'm doing. The series is not called "Yoga Out Loud" for nothing.
I'm going to give you something to think about and I would like to "respectfully" hear back from you.
Here you go with a can of worms.
I'm just going to say what everyone hates to say……..Yoga can be controversial.
It's silly, but it can. And I will be the first to admit that my "beliefs" held me back from experiencing Yoga until now. Why you ask?
It boils down to fear. We are held back from experiencing so many things because of fear. Promotions, career changes, parenting, marriage……..many of these changes or experiences are hindered because of fear.
And you know what I have found out so far. Yoga isn't about conforming to a belief, it's actually about NOT conforming. It's about acceptance and it's about grace.
That is not something to be afraid of, no matter your belief. It is something to try to emulate.
My Yoga practice is deepening my desire to show more grace to everyone. To become stronger in my faith and emulate true grace to everyone.
Not because I am being told to. Not because I am being led to. Because as my mind is exercised, I am being inspired to.
If I would have held back because of fear……..I would have missed it.
What you feel at Yoga in Common and Yoga in the Forest is what Leah and Sue are talking about. There is a true humility and love expressed.
They do not just say the word.
They live it.


Namaste.
The Divine in me recognizes and honors, the Divine in you.
The spirit within me bows to the spirit within you.
I greet that place where you and I are one.
I honor the place in you which is of love, of truth, of light and of peace.
It is an essential part of the mind and body experience of the "practice" of yoga.
To experience it fully you must understand it.
I'm working my way there……and taking you with me.
Lucky rabbit's foot, Bible book mark, and all.


Love, Namaste



Me
(Rebecca M Stanley is the author of the blog www.youaretalkingtoomuch.com. All humor and sarcasm is understood and not deemed offensive by the staff and owners of Yoga in Common and Yoga in the Forest. WE get it. Laughter is good for the soul…….may we learn and laugh and grow together.) Namaste.